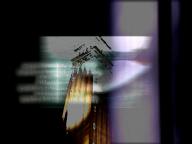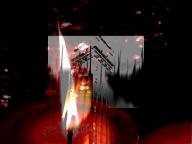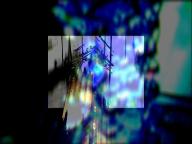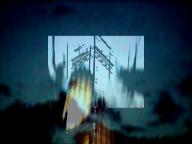 The main themes of this video are lost memories, dreams, music and knowledge. The Campanile (bell tower) in Piazza San Marco in Venice, is a symbol of the constant in contrast to the illusion of time and events moving forward, represented here by cyclic imagery of floating gondolas. Ergebnis also creates a personal intertextuality within my own musical and visual output. The inclusion of melodic fragments sampled from recordings I have made in the past, act as signifiers to personal experience but remain open to wider interpretation. The text spoken in German includes the title of the last of Gustav Mahler's Rückert Songs: 'Ich bin der Welt abhanden gekommen' (I have lost track of the world). Although none of Mahler's music is present in my piece, my spoken text connects to the idea of the individual finding a private heaven, a place of repose. Ergebnis translates from German as 'Conclusion'.

"Ich bin zu dem Ergebnis gekommen, das ich bin der Welt abhanden gekommen. Es tut mir leid…Ich sage. Was ist los?…mit Träne den Augen…er spricht..niemand ist hier jetzt. Wir sind der Welt abhanden gekommen."Translation: "I have come to the conclusion, that I have lost track of the world. I'm sorry..I say. What's wrong?...with tears in his eyes..he speaks..no-one is here now,we have lost track of the world."

The song fragments for soprano come from my song 'Across This Land', with lyrics that describe a journey towards a spiritual landscape. Within the main structure of the music there are also fragments of piano music, jazz vibraphone and trumpet, as well as electronic sounds and further sung material. The film is constructed through a similar process to the music, to achieve a multi layered effect. The property of light on and through different surfaces and objects is one of the main features which can be observed throughout the film. Works which have influenced the creation of the music, include 'Ships in Embrace of the Endless Dark Ocean', by Ivana Ognjanovic written for the multimedia tour 'Ultramarine'. This work samples the opening of Dialogue of the wind and the sea from Debussy's orchestral piece 'La Mer' . Another reference point for Ergebnis is 'A Parisian In Paradise' Anthony Pitts' 45 minute multi-layered re-creation for Radio 3 of Paris in 1943. At the conclusion of this work I hope to achieve a meta-narrative through the layering of different music, related images and text associations. Ergebnis is a work in a state of flux, so that transformations of its components, addition or subtraction of intertextual elements may occur as time moves on, as the piece is re-recorded, performed or exhibited.



HOME VIDEO

This short film was created to be shown within the context of a gallery space. Please contact Ian for further information.
'Night Song' sung by Edith Peck
violin - Michael Peck
'Across This Land' (extracts) sung by Sharon Jones
voices, piano, electronics - Ian Harris
text & stills © Ian Harris 2006© Ian Harris 2005