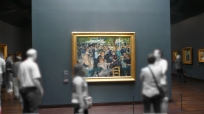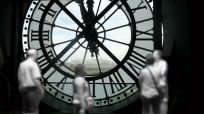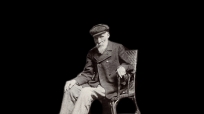 'Entre la vie et le temps' / 'Between life and time'
The themes of this film are time, Art, sunlight & Paris. An image of the 'Bal du moulin de la Galette' from 1876, a work by the impressionist painter Auguste Renoir is at the heart of this film. The painting is an impressionist snapshot of working class Parisians spending time dancing, drinking and eating.
The contemporary photographs were taken in the Musée d'Orsay and the Jardin des Tuileries in Paris.
The piano music soundtrack is written in a jazz / classical idiom, showing the influence of Erik Satie and Claude Debussy, of moderate technical difficulty, slow moving, melody and harmony are given equal importance. The piano music is composed and performed by Ian Harris.
Photograph of Renoir.
This photograph comes from the Bibliothèque nationale de France (BNF) website. The BNF has determined that this file is in the public domain in France and other countries and areas where the copyright term is the author's life plus 70 years or less.



HOME FILM

This short film was created to be shown within the context of a gallery space. Please contact Ian for further information.

text & stills © Ian Harris 2018