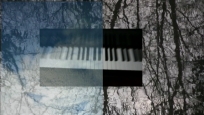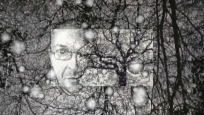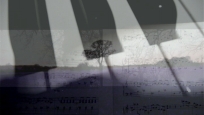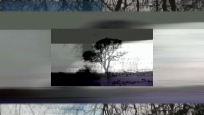 One of my pieces for piano solo forms the soundtrack to this film. The images; the reflections on water, the trees, the composerís face, all contribute to create the atmosphere of a haunting winter landscape.
The fields surrounding the church at Crowfield (a village in Suffolk) create a magical space, where the sky reaches down into emptiness, the horizon punctuated by an assortment of strange old trees. The church itself, hidden from casual passers by within a secret wood, standing next to a little island surrounded by black water, that reflects the trees above. Walking up the gravel path from the road to the island takes you away to somewhere in your memory, somewhere you have dreamed of.
This film is inspired by Monet's paintings of water at Giverny and the piano music by Debussy. The landscape at Crowfield is a portal to memory, creativity and beauty.
I travel again to Giverny where I see Monet painting clouds reflecting on the water. At the same time I hear the evocative watery piano music of Debussy's, 'Reflets dans l'eau'.

HOME FILM

This short film was created to be shown within the context of a gallery space. Please contact Ian for further information.

text & stills © Ian Harris 2016