Charity Event at All Saints Church, Dovercourt - Saturday 12th May 2018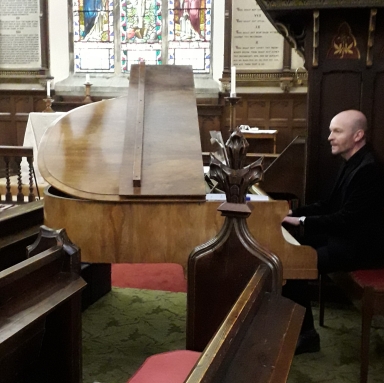 Summer Time - George Gershwin / Duboise Heyward
I'll Look Around - Douglas Cross / George Cory
Prelude in C - J.S. Bach
Winds Of Tibet - Ian Harris
My Funny Valentine - Richard Rodgers / Lorenz Hart
In My Room - Brian Wilson / arr.Jacob Collier / arr. I. Harris
Evergreen - Barbra Streisand
Film Themes Medley - John Williams
Reflections at Midnight - Ian Harris
Moonlight, Starlight - Ian Harris
Moon River - Henry Mancini / Johnny Mercer
Clouds and Life - Ian Harris
Je Vois l'océan - Ian Harris



---
Jazz Piano concert at St Nicholas' Church, Harwich - Sunday 12th June 2016
A concert that celebrated the Queen's 90th Birthday.

Je Vois l'océan - Ian Harris
The Enchanted Chandelier - Ian Harris
Misty - Eroll Garner / Johnny Burke
Can't Help Lovin' Dat Man - Jerome Kern / Oscar Hammerstein II,
I've Got You Under My Skin - Cole Porter
I'll Look Around - Douglas Cross / George Cory
Summer Time - George Gershwin / Duboise Heyward
L'espoir d'été - Ian Harris
The Way You Look Tonight - Jerome Kern / Dorothy Fields
Embraceable You - George & Ira Gershwin
My Funny Valentine - Richard Rodgers / Lorenz Hart
Easy Living - Ralph Rainger / Leo Robin
Moon River - Henry Mancini / Johnny Mercer
Love theme from the film 'Cinema Paradiso' - Ennio Morricone
You Only Live Twice - John Barry / Leslie Bricusse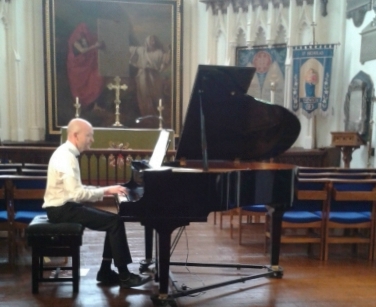 ---
Recital & Service at St Nicholas' Church, Harwich - Sunday 28th February 2016
As part of a special service at St Nicholas' Church, on the theme of 'sudden bereavement', Ian performed six of his own piano compositions at key moments during the hour long service, to enhance the theme of reflection. The service began at 5pm and Ian played the first two of his compositions just before the start at approximately 4.45pm
Winter Clouds At Crowfield - Ian Harris
L'espoir d'été - Ian Harris
December Light At Iken - Ian Harris
Fall Of The Last Barrier - Debbie Wiseman
Je vois l'océan - Ian Harris
Elegy - Ian Harris
When Summer Ends - Ian Harris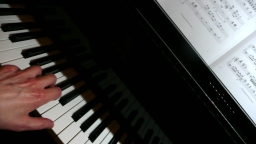 ---
Concert at St Nicholas' Church Harwich - Saturday 6th September 2014
Supporting the work of the Tearfund - Featuring local musicians who gave their time to this worthwhile charity. Musicians included a violinist, singers, guitarists and pianists.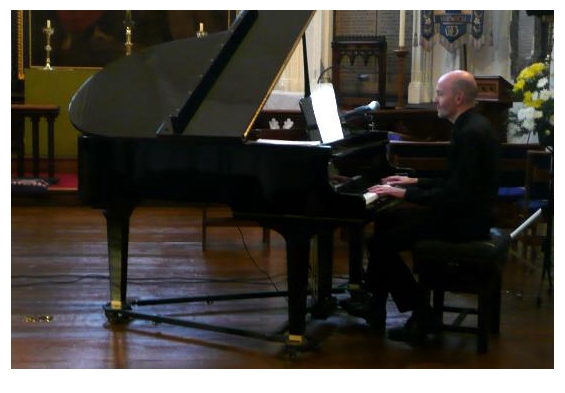 Ian performed his own arrangement of a Prélude by Maurice Ravel, followed by three film themes

Prélude – Maurice Ravel / arr. Harris
Fall Of The Last Barrier – Debbie Wiseman
Theme from 'Schindler's List' – John Williams
Love Theme from 'Cinema Paradiso' – Ennio Morricone
---
Adagio - Classical Guitar and Film Event
Salvation Army Citadel - Harwich
Saturday 31 March 2012
Classical Guitar - Ian Harris


complete programme details:

Vuelvo al Sur - Astor Piazzolla
Romance - anon
Love Theme from the film The Godfather - Nino Rota
Arioso - J.S. Bach
Arroyas de la Alhambra - Angel Barrios
Aria - Johann Anton Logy
El Verano Espanol - Ian Harris - (1st Performance)

Monet's Dream - film - Ian Harris

Milonga del Angel - Astor Piazzolla
Soleil d'avril - Ian Harris - (1st Performance)
Malaguena - anon.
Manha de Carnaval - from the film Black Orpheus - Luiz Bonfa
Cavatina - from the film The Deer Hunter
Study in E minor - Francisco Tarrega
Adagio - Tomaso Albinoni



---
Ipswich Orchestral Society
Family Concert with the theme Magic
Ipswich Corn Exchange
Sunday 9 March 2003
THE INVISIBLE MAGICIAN

Conductor: Adam Gatehouse
complete programme details:

Raider's March - JOHN WILLIAMS
Ritual Fire Dance - DE FALLA
The Nutcracker Suite (excerpts) - TCHAIKOVSKY
Danse Macabre - SAINT-SAËNS
The Firebird Suite (excerpt) - STRAVINSKY
'Mars' from The Planets Suite - HOLST
Sorcerer's Apprentice - DUKAS
The Invisible Magician (first performance) - IAN HARRIS
Specially commissioned for IOS
The audience are invited to join in with casting a magic spell...
Czardas - VITTORIE MONTI
ET Selection - JOHN WILLIAMS


---
4th London New Wind Festival
at the Southbank, London (6 November 2001)
'SUMMER THUNDER SPEAKS'
for flute & piano

flute - Charlotte Munro
piano - Robert Coleridge

"Summer Thunder Speaks is a short
but very energetic work for flute and piano.
The music is bright and bursts out of nowhere
like the sudden appearance of a thunderstorm
on a summer's day. One moment the storm is
upon us, and the next it has disappeared
completely."

complete programme details:

Sectoral Web Spanning an Open Doorway: Liz Johnson
(World Premier)
Second Piece for Solo Horn: Michael Parsons
Ostrich On the Plain: Graham Fitkin
Ellag: Luca Vaneschi (London Premier)
Transfiguration: Luminata Spinu
White Crane Spreads Wings: Susie Self
Airs and Graces: Colin Riley
Summer Thunder Speaks: Ian Harris (World Premier)
Four Oblique Pieces: Michael Parsons
Thaxted Evening: Frank Bayford
Bulldozer Old House and Old Banyon: Ho Wai On
---
Greenbelt Festival
Castle Ashby Church (31 August 1992)
'META-FLIGHT' for clarinet, violin, cello & piano (Festival Commission)
'de-Feuvre' Ensemble

cello - Gerard de Feuvre
clarinet - William Napier
violin - Michael Peck
piano - Andrew Behrend

"A work in two movements, influenced by jazz harmonies, making reference to a consistent theme in Ian's work - the idea of travel - journeys of the mind."

complete programme details:

Piano Trio: Beethoven



© 2005 Ian Harris